AYA Cancer Research and Evaluation
AYA cancer research is essential for improving long-term outcomes for AYAs with cancer and reducing inequalities. The AYA Cancer Network is keen to promote cross-sector awareness of AYA cancer research. Greater collaboration encourages the cross-pollination of ideas and leads to better prioritisation and utilisation of scarce research resources. The Network is also mindful that rangatahi with cancer are a small population and we want to protect them from the burden of being contacted by multiple research teams in a short space of time.    
If you are interested in conducting research involving young people with cancer then please get in contact with us. We are keen to support research of all types and at all stages by:
Suggesting possible research questions
Providing feedback on your research proposal
Connecting you with other researchers who are interested in a similar area
Helping you recruit study participants through our existing contacts
Sharing your study findings and outputs with the AYA community
Kirsten Ballantine
Research and Data Lead
kirsten.ballantine@cdhb.health.nz
AYA Cancer Research Project Directory
The AYA Network has developed an AYA Cancer Research Project Directory that includes research projects that the Network is undertaking in our own priority areas as well as other studies that we support. If you would like to know more about a particular project then please click on the headings below. And if you know of any other current New Zealand studies involving AYA cancer patients that aren't listed here, then please let us know at AYACancer@adhb.govt.nz
AYA Cancer Incidence and Survival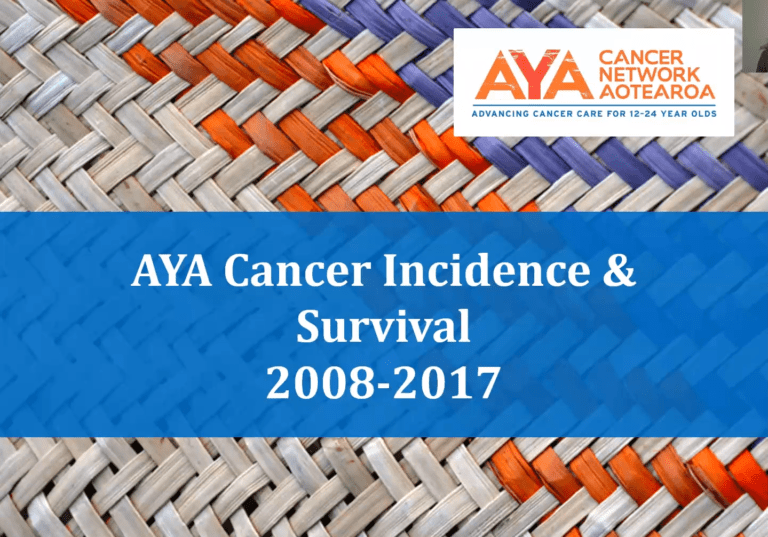 Kirsten Ballantine, our Data Projects Lead has produced a webinar to provide a little more detail about the main findings from the AYA Cancer Incidence and Survival in Aotearoa 2008-2017.
AYA Reports and Presentations
Many New Zealand clinicians and researchers are actively involved in AYA cancer research. Here we celebrate AYA research that has recently been published in New Zealand and international peer-reviewed journals. 
2021. Kim D, Moss R, Gooder C, Lee C, Watson H, Pettit T. 2021. Health professionals' self-identified knowledge, barriers and educational needs regarding identification and management of adolescent and young adult cancer in New Zealand. The New Zealand Medical Journal.
2019. Pettit T, Sue L, Waugh V, et al. 2019. An age stratified analysis of the access to care continuum across three tumor groups: are there delays for AYA? Journal of Adolescent Young Adult Oncology.
2018. Ballantine K, Utley V, Watson H, Sullivan M, Spearing R. 2018. The burden of cancer in 25–29 year olds in New Zealand: a case for a wider adolescent and young adult age range? The New Zealand Medical Journal.
2018. Watson H, Moss, R. 2018. Adolescent and young adults with cancer in New Zealand: Understudied and under-served. The New Zealand Medical Journal.
2017. Ballantine K, Watson H, Macfarlane S, et al. 2017. Small Numbers, Big Challenges: Adolescent and Young Adult Cancer Incidence and Survival in New Zealand. Journal of Adolescent and Young Adult Oncology.
2013. Yallop K, McDowell H, Koziol-McLain J, et al. 2013. Self-reported psychosocial wellbeing of adolescent childhood cancer survivors. European Journal of Oncology Nursing.